Renewals
Your Chiropractic License EXPIRES on December 31, 2018
Please read the following information for tips on how to complete your renewal
Essential Information for Online Renewals
Paper Renewal forms
In 2015, the Board moved to an online renewal system allowing licensees to complete their renewal and pay the renewal fee online.  With its continued success, paper renewals are no longer available.
Web browser
Please note that the online renewal portal works best in Mozilla Firefox or Google Chrome. It is suggested that you use one of these browsers to complete the renewal process.
Renewal Receipt Certificate
For your convenience, the last page of the renewals form will be your Renewals Receipt Certificate. To save on printing costs and postage, a paper copy will not be mailed to you. Once you submit your renewal form, an electronic copy of the renewal you submitted will be emailed to the address provided. The Board will review and approve your renewal and a completed copy will be emailed back to you which includes your renewal receipt for your records. The renewal receipt contains your receipt number or confirmation code, the amount paid, your license renewal and expiration dates, license number, license status, and your mailing address. This is to provide you with an immediate copy of your renewal receipt with all required information.
Notice of The late fee
Any renewal form not completed and received by 12:00 am Arizona Time on January 1, 2019, will be required to pay the $200.00 late fee.
Please note that when filling out the online renewal form, the following box will appear to allow the submission of the form. If this box does not appear, there are remaining fields in the form that must be completed. 

The following will be displayed when your renewal application form has been successfully submitted. If this screen does not display, your renewal form was not submitted to the Board for processing.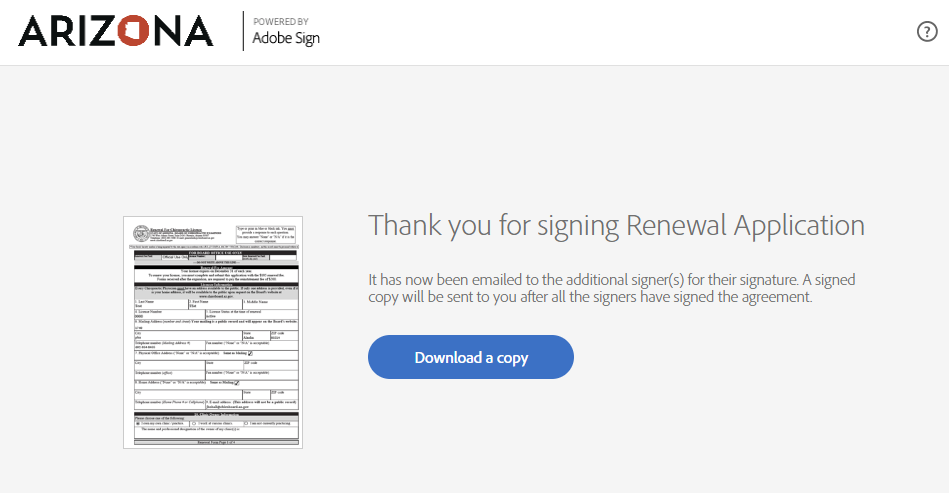 We encourage you to read the above information prior to completing the online renewal to ensure a smooth and easy process.
Click here to renew your license.
Click Here if you are currently residing in a foreign country.
Supplemental Continuing Education Coursework Form
The form has available space for 5 courses. If you completed more than 5 courses, please completed this supplemental form to be submitted in addition to your renewal form. Please note that is form does not replace renewal form but is additional. Please ensure that you complete the renewal form prior to submitting the CE Course Form.